5 Things You Need Know Before Buying A Duvet Cover Set
Are you a big fan of hotel bedding? Is there anything makes you happier than getting up in a hotel bed? It makes you feel so cozy and warm because of the quality of sheets and duvet covers. Shouldn't we wake up like that every day? Yes, we can! Investing on a good mattress and a comfy bed is not enough unless we have a right duvet cover to up our bed game. Before buying a duvet cover set, what should we know?
What's a duvet cover?
The word "duvet" is French for down, which makes sense considering that down is the traditional filling for a duvet. Down can come from both geese and ducks and is the soft plumage found under the wings. Most down fillings are made with down feathers and fiber clusters that give this bedding a fluffy feel. The casing or shell of a duvet is typically made of cotton or a cotton-poly blend. This casing is also usually white since duvets are typically paired with a duvet cover.
If duvet inserts are like a pillow, duvet covers are like a pillowcase. They're what covers your duvet insert to protect it from the germs and bacteria on your body (or, for those of us who enjoy eating in bed, any midnight snacks you might accidentally spill). A duvet insert slides inside the cover and is tied in place.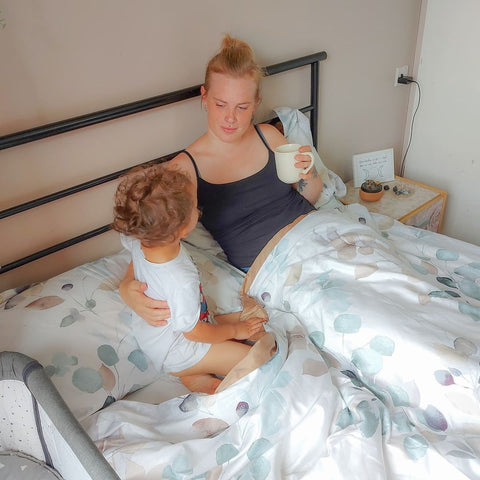 What's the function of a duvet cover?
At first, it is good for your health. Duvet cover is important to keep it protected from body oils, sweat, and germs. Our  Mildly duvet cover is made of cotton, it is breathable and can absorb and release moisture very quickly. Especially, Mildly duvet covers are made from highest quality Egypt cotton. They are all extra-long staple and very soft to touch.
Secondly, it is easy to wash. Duvet covers preserve the cleanliness of the often difficult and expensive to clean inner duvet. Since duvet covers easily open via buttons, ties, or a zipper, you can slip off the cover, launder it, and replace it quickly. This simple method makes it easier to keep any home clean and attractive.
Thirdly, having the best duvet cover cannot only improve your sleep quality but also beautify the décor and overall look of your room. When you invest in an expensive duvet, you want to make it look stylish with a nice collection of high quality and breathable duvet covers with more of a crisp look and linen feel so you can change the entire look of your room whenever the mood strikes.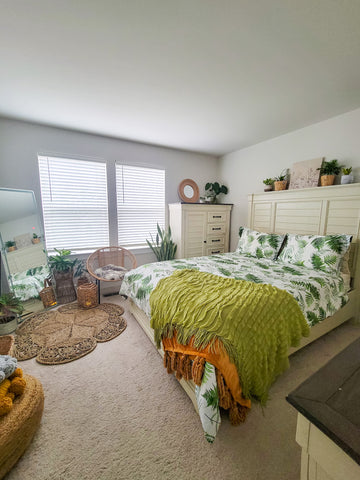 How to choose a good duvet cover?
There are tons of duvet cover options available which makes it hard to know what cover suits the best to your need. Mildly was built to deliver the best designer bedding products at a reasonable price that has no bearing on quality. Our motto is Think Less Feel More. Our dreamy-soft duvet covers made for the most stunning bedscape are exactly what you are looking for. Made with the finest quality fabric these duvet covers are hyper durable, pliable, and primed to age beautifully. Why we define our Mildly duvet cover as good product? As for this question, we need know how to choose a good duvet cover.
You can choose Duvet Cover  based on style, colors, and patterns. Since Duvet Cover is an essential part of your bedding, you have tons of options to choose from but below are a few important pointers before buying a Duvet Cover Set.
Size - Select a size that matches your Duvet. You also get matching shams to go with your Duvet Cover so that helps with color coordination.
Twin: from 63 inches x 85 inches to 68 inches x 88 inches
Full/Queen: From 85 inches x 91 inches to 90 inches x 92 inches
King: From 104 inches x 92 inches to 106 inches x 92 inches
California King: 102 inches x 99 inches
Material - Cotton Duvet Cover is the best option if you want a snug feel Duvet Cover that provides you restful sleep. While there are many other fabrics available in the market, cotton remains a popular choice. All Mildly duvet covers are made of cotton.
How to put a duvet cover on?
Step 1 - Turn the duvet cover inside out, and lay it on top of the duvet.
Step 2 - Put your arms inside the duvet cover and follow the seams up until you can grip the corners at the opposite end of the opening.
Step 3 - Holding the duvet cover firmly through the duvet cover, shake the duvet cover down over the comforter.
Step 4- Fasten the open end of the duvet.
How to decorate with duvet covers?
Duvet covers are also very versatile. They allow you to change easily the look of your bedroom without having to completely redecorate.
They come in a large variety of styles, designs and fabrics. They can be purchased as part of bedding set along with sheets, pillowcases and bed skirt all in coordinating patterns.
The right style is a matter of personal taste. When choosing a duvet cover for your comforter, pick out a style that will go with your furniture and flooring of your bedroom.
A Plaid, Floral, Toile or Paisley patterned duvet cover works well in a Contemporary and Traditional setting.
For an exotic theme, choose Tropical or Animal print fabrics.
A classic solid or embroidered White, Ivory or Black, will create the luxury look of a 5-stars Hotel Style.
As for the child's bedroom, there are several types of duvet cover patterns in stripes, floral, cartoon characters or even sporting teams.
For a man's bedroom, solids and subdued patterns are the perfect choices for a classic and masculine space.
For worry-free decorating, you can always pick sheet sets that include a duvet cover.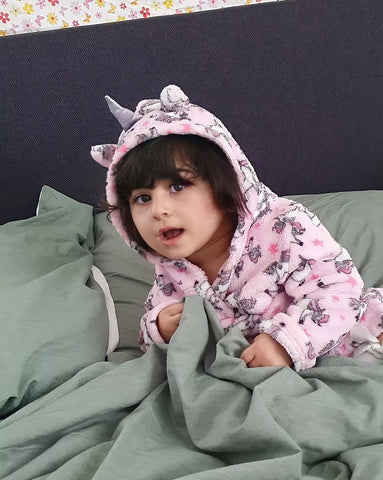 ---