8 Things You Need Know About Mildly Duvet Cover sets
The History Of Mildly
Hey, there! As you can clearly see, we are an international company that specializes in affordable luxury duvet covers and silk pillowcases in USA, Canada, Japan, and Europe. In near future, we will launch more other bedding sets. Mildly was founded by Jeff and David in 1996 to develop and sell duvet covers. With a Master in Agriculture, Jeff took the first step in a rewarding career. David is an artist honest in expressing his inner feelings. One day, the idea of bringing art into bedding came into Jeff's mind when he stepped into David's bedroom and saw the dyes on his bed on a Sunday afternoon. The bed was stained by dyes when David created a masterpiece in his bedroom. However, Jeff thought the outdated duvet cover was more beautiful than before with the decoration of dyes.What's more, in that period of time Jeff was suffering from an allergy to polyester, so he tried to find good cotton duvet covers, but he found that most of bedding products on market are made of polyester. So Jeff and David started a dream to create Mildly as a bedding brand to produce high end fashion duvet covers and other bedding sets with unique design and natural material.
In order to find best raw material to manufacture Mildly duvet covers, Jeff did researches among lots of reports, even went to visit some well-known sources of raw material. After a long period of investigation, he decided to use Egyptian extra-long staple cotton.
Meanwhile, David brought art to life. He did a lot of researches in using different dyes in producing duvet covers. At the end, he found the natural dyes to manufacture duvet covers because only natural material can be healthy in intimate skin to skin contact.
After finding best natural material and dyes, Jeff and David met another problem-craft. Now most of the crafts they can find can only be applied with polyester material. They visited some traditional workshops to learn traditional craftsmanship. They also visited some factories with standard production line in order to create a new factory which combines traditional craftsmanship and modern production line together. They use complete 9 processes to achieve the integration of traditional craftsmanship and  modern production line, with 5 quality inspections to eliminating defects as early as possible in the process. In total, each single product takes about 12 hours to be shaped so that the final product can guarantee the best touch and design.
Why do we choose cotton as our material to manufacture Mildly duvet covers?
Fabrics is a core part of the fashion industry. While the ideas behind designs are vital to the creation of duvet covers, fabrics are the foundation that support these creative ideas.Designers tend to focus on aesthetics; however, sometimes they might have missed to consider the materials. From fiber to fiber, every part is crucial to the outcome of a piece of duvet covers. A professional designer must have strong fabric knowledge to achieve better results, no matter whether they are designing for function or form. With a Master in Agriculture, Jeff has strong fabric knowledge, as he suffers from allergies, so he suggests Mildly to use Egyptian extra-long staple cotton to produce duvet covers. Breathable fabrics made from natural fibers, such as cotton and silk, are less likely to cause allergies. All Mildly duvet cover sets are made of 100% Egyptian cotton, we also have silk pillowcases.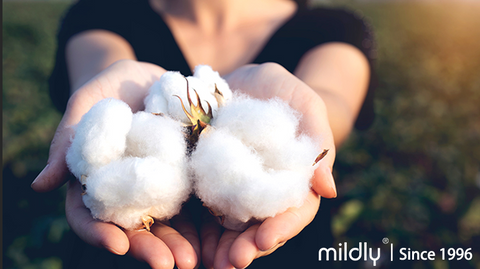 Cotton is a seed fiber grown as a protective case around the seed of the cotton plant. Known to be the most popular natural fiber in the world, it is soft and fluffy to the touch and is usually off-white in color.
Derived from the Arabic world "Kutan", cotton has been grown for more than 6000 years. First found woven in cloth around 3000 BC in Pakistan, it was then brought to Europe in about 800 AD by Arabic merchants, and by 1500 was known throughout the world.
Conventional cotton requires extremely high moisture levels, resulting from rainfall or irrigation during the growing season, and a warm, dry season during the picking season. Picked cotton will go through ginning to separate the fibers from the seeds. Cotton has below characteristics:
Lightweight
Durable, remains strong when wet
Breathable and wearable all the year round
Absorbs and release moisture very quickly
Takes dye well but prone to discolor after wash
Not stable and tends to shrink
Prone to wrinkle
Does not gather static electricity
The grade of cotton depends on cleanliness, whiteness, fiber length, and fiber strength, but a longer staple usually indicates higher quality with a smoother hand feel. All cotton we use are Egyptian extra-long staple and very soft to the touch.
Which fabrics do not cause allergies?
Breathable fabrics made from natural fibers, such as cotton and silk, are less likely to cause allergies.
What is the type of weave we use?
The type of weave we use is satin. Until the 1800s, satin was commonly used in dressmaking-most often to make evening gowns for upper and working-classwomen to wear only once. King Louis XIV of France was also known to cover his ornate furniture in Palace of Versailles with the luxurious fabric during the 1600s and 1700s.
Satin has below properties:
Smooth and lustrous due to the weaving structure
Silky appearance on the front of the fabric, dull on the back
Prone to snagging and breakage due to its smooth surface
Difficult to handle due to its slippery texture
Introduction Of The Styles Of Mildly Duvet Covers
We now have 8 styles: Botanical; Textured; Ink Painting; Geometric; Chinoiserie; Ocean; Solid; Reversible.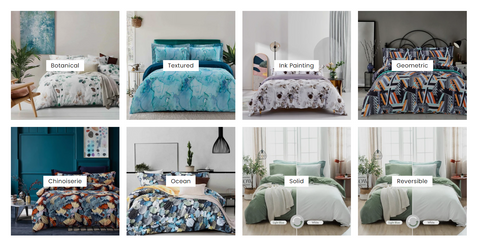 We have different products under each style, for example we have 16 products under Botanical such as Able, Aesop, Bert and so on.
What's OEKO-TEX certificate?
STANDARD 100 by OEKO-TEX® is one of the world's best-known labels for textiles tested for harmful substances. It stands for customer confidence and high product safety. Mildly has OEKO-TEX certificate. If a textile article carries the STANDARD 100 label, you can be certain that every component of this article, i.e. every thread, button and other accessories, has been tested for harmful substances and that the article therefore is harmless for human health. The test is conducted by  independent OEKO-TEX® partner institutes on the basis of extensive OEKO-TEX® criteria catalog. In the test they take into account numerous regulated and non-regulated substances, which may be harmful to human health. In many cases the limit values for the STANDARD 100 go beyond national and international requirements. The criteria catalog is updated at least once a year and expanded with new scientific knowledge or statutory requirements. It is not easy for manufacturers and customers to keep an overview of the legal situation concerning harmful substances every day. The experts from the OEKO-TEX® institutes do this for you.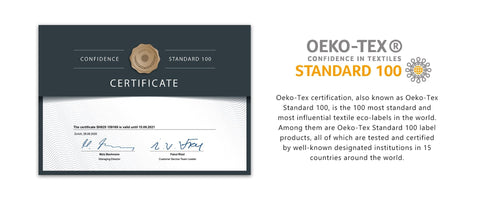 Where to buy Mildly duvet cover sets?
Except this website, you can also buy Mildly duvet cover sets on amazon, wayfair, rakuton and walmart.
How to contact Mildly team?
If you have any questions before or after buying, welcome to contact us via below social media:
Ins:@mildlyhome
FB:@mildlyhome
Twitter:@mildlyhome
Pin:@mildlyhome
---