Why Can Mildly Duvet Cover Sets Be Good Gift Choice?
Gifts can be carriers to convey our best wishes to our relatives and friends. However, it's difficult to prepare the right gifts for them. In this difficult choice, have you ever taken Mildly duvet cover sets into consideration? This question might come into your mind: why should I choose it? Let we tell you one by one as below:
1. Exquisite Package
All Mildly duvet cover sets are packaged exquisitely, thus your friends and relatives will definitely be very happy when recieve this gift. Exquisite gift box can mean that your gift is fullfilled with your sweet heart and best wish. No one will not be touched by an honest attitude.
2. Elegant Desgin
Our mantra "thinking less feel more" is necessitated by our great desire to have our clients feel the impact of our products in their lives. People go through a lot in their day to day lives. When looking for high-quality products, most people tend to be put off by the astronomical price tags, which is a common feature. However, at Mildly, we think and see it differently. People want to experience a better life, and we are here to give it to them.
At Mildly, we pride ourselves on our wide range of textile products that are carefully and expertly designed with the latest innovations. We pass our products through stringent quality control measures to ensure that you enjoy our fine product collection. With over 250 copyrights of product designs, you are assured that our products will meet all your heart desires.
Our professional team of designers, which comprises at least thirty people, is determined to create the designs you are accustomed to and have come to love. Our state-of-the-art factory has been operational for over 24 years and has been churning out and bring the designs to life.
3. Made Of 100% Cotton With OEKO-TEX Certificate
Fabrics is a core part of the fashion industry. While the ideas behind designs are vital to the creation of duvet covers, fabrics are the foundation that support these creative ideas.Designers tend to focus on aesthetics; however, sometimes they might have missed to consider the materials. From fiber to fiber, every part is crucial to the outcome of a piece of duvet covers. A professional designer must have strong fabric knowledge to achieve better results, no matter whether they are designing for function or form. Breathable fabrics made from natural fibers, such as cotton and silk, are less likely to cause allergies. All Mildly duvet cover sets are made of 100% Egyptian cotton, we also have silk pillowcases.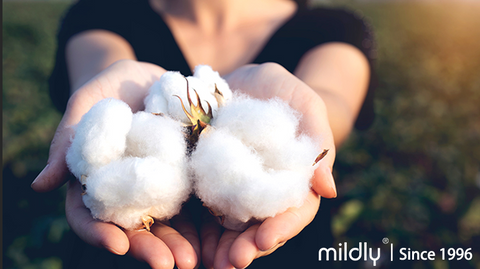 Cotton is a seed fiber grown as a protective case around the seed of the cotton plant. Known to be the most popular natural fiber in the world, it is soft and fluffy to the touch and is usually off-white in color.
Derived from the Arabic world "Kutan", cotton has been grown for more than 6000 years. First found woven in cloth around 3000 BC in Pakistan, it was then brought to Europe in about 800 AD by Arabic merchants, and by 1500 was known throughout the world.
Conventional cotton requires extremely high moisture levels, resulting from rainfall or irrigation during the growing season, and a warm, dry season during the picking season. Picked cotton will go through ginning to separate the fibers from the seeds. Cotton has below characteristics:
Lightweight
Durable, remains strong when wet
Breathable and wearable all the year round
Absorbs and release moisture very quickly
Takes dye well but prone to discolor after wash
Not stable and tends to shrink
Prone to wrinkle
Does not gather static electricity
STANDARD 100 by OEKO-TEX® is one of the world's best-known labels for textiles tested for harmful substances. It stands for customer confidence and high product safety. Mildly has OEKO-TEX certificate. If a textile article carries the STANDARD 100 label, you can be certain that every component of this article, i.e. every thread, button and other accessories, has been tested for harmful substances and that the article therefore is harmless for human health. The test is conducted by  independent OEKO-TEX® partner institutes on the basis of extensive OEKO-TEX® criteria catalog. In the test they take into account numerous regulated and non-regulated substances, which may be harmful to human health. In many cases the limit values for the STANDARD 100 go beyond national and international requirements. The criteria catalog is updated at least once a year and expanded with new scientific knowledge or statutory requirements. It is not easy for manufacturers and customers to keep an overview of the legal situation concerning harmful substances every day. The experts from the OEKO-TEX® institutes do this for you.
4. Competitive Price
No need to say much, we have been recommended by thespruce.com as "Best Budget".
On a budget? Go with this 100 percent cotton set by Mildly. It comes in several colors and is reversible with white on the back for added versatility. This duvet cover has corner ties to keep the insert in place, plus a hidden zipper closure on the bottom.
The material is pre-washed and shrunk for a soft feel and a better fit. We also appreciate that it comes in exact bedding sizes, which prevents a baggy look that happens when an insert doesn't quite fill its cover.
In conclusion, Mildly duvet cover sets can be good gift choice. You can check all products on mildlyhome.com. 
---